Founder and President, We Shall Overcome Foundation
Contact: 626-222-890-two
Isaias@WeShallOvercomeFoundation.org
FOUNDER
The We Shall Overcome Foundation was founded in 2012 by Isaias Gamboa. His motivation in doing so was driven by his dedication to serving the poor, marginalized, and needy, which is rooted in his faith-based values and beliefs. Born in San José, Costa Rica to parents of Spanish and African ancestry, although born of maternal Jewish lineage, Isaias was raised in Christian Catholic and Baptist traditions, being the respective religious backgrounds of his parents. He is an avid student of the HOLY BIBLE and describes himself as a student of the follower of the love-based, and service-based examples and teachings of Jesus Christ. Isaias believes that love, kindness and compassion for the poor and needy, are the only true measures of divine faith, obedience and discipleship.
BACKGROUND
Throughout his childhood, Isaias traveled to many Central American countries with his family, where he witnessed his parents demonstrate their faith in God through acts of love, kindness and compassion to those in need. Their example made a lasting impression on him. As an adult, Isaias has traveled to nine Latin American countries in service of the poor, needy, abused, disenfranchised and marginalized. In war and drug-ravaged regions, he has experience much joy, but also had automatic weapons held to his head...experiences he found to be life-affirming.
In 2010, while in Brazil to donate toys and clothing to the poor, Isaias formed a strong relationship with three orphanages. These bonds, along with the cruelty, abuse and hardships he witnessed, suffered by Blacks in America, would form the basis for the founding of the, We Shall Overcome Foundation.
A LOVE OF MUSIC
Isaias began playing musical instruments as a young boy, nudged on by his Baptist mother, who played piano and sang the English Christian hymns to him before bed. As a young girl, she herself had been taught these hymns by Seventh Day Adventist missionaries, in Puerto Limón, Costa Rica. Before long, his high-level affinity for music was discovered by his parents and others. Isaias went on to enjoy a two decade long career as a recording artist, music-producer, music-publisher, songwriter, recording engineer, musician and arranger. He has served as a voting member of the Grammy® organization and written more than 200 songs with Grammy® and multiple RIAA® Platinum and Gold awards along the way. He is also a 40-year member of the American Society of Composers, Authors and Publishers (ASCAP).
AUTHOR
In 2012 Isaias published his first book, "We Shall Overcome: Sacred Song on the Devil's Tongue". He also produced an accompanying self-narrated, and dramatized 4-CD audio-book. This book and audio book, are definitive guides to the true history of the powerful and globally revered protest anthem, "We Shall Overcome". The book also reveals his discovery of the extraordinary woman from Cincinnati, whom he believes to be the original author of, We Shall Overcome; Rev. Mother Louise Shropshire, a close friend of the Rev. Dr. Martin Luther King Jr., Rev. Fred Shuttlesworth, and Rev. Thomas A. Dorsey It also explores the historical attitudes of Black-exploitation, subjugation and racism in America by "non culture-bearers".
WSOF WINS LANDMARK LAWSUIT!
In 2016, the We Shall Overcome Foundation, led by Isaias Gamboa, filed a class-action lawsuit in the Southern District of New York, that sought to free the civil rights anthem, We Shall Overcome from the illegitimate control and exploitation of, The Richmond Organization (TRO) - a powerful music publishing company that had claimed control of the global protest and freedom anthem for nearly 60 years, following the 1963 March on Washington. In January of 2018, the We Shall Overcome Foundation won its fight.The Richmond Organization was forced to pay nearly Million of dollars in legal fees, and relinquish all rights to the African American hymn, which is now in the public domain.
COMMUNITY SERVICE

For 20 years, Isaias Gamboa served his Los Angeles community as a licensed California real estate broker, and owner of Beautiful Homes Real Estate. He is also an ordained and licensed Christian minister, certified carpenter, certificated high school teacher, licensed competitive youth soccer coach and licensed FAA Commercial SUAS pilot.
In 2014, Isaias re-located from Los Angeles to Cincinnati, to complete a documentary film he was directing about the true origins of We Shall Overcome. While there, he offered to restore an extraordinary residence that once served as a safe-house for the "Underground Railroad". Not long afterwards, he, came to observe the same racial and economic disparities he had seen in Los Angeles, and decided to establish the, Cincinnati Construction Academy, and later, Mr' G's Home-Care Bootcamp.
CINCINNATI CONSTRUCTION ACADEMY
With the considerable support of local and national business and non-profit partners, The Cincinnati Construction Academy provides mentorship, training and other resources to at-risk African American and minority-youth, and adults in the most vulnerable and under-served communities. This program was born from, the Brother and Sisterhood of Minority Tradesmen, which was established and led by Isaias in Los Angeles, California. Please see the tab on the left for more info.
MR. G's HOME-CARE BOOTCAMP
This series of rigorous weekend workshops, provides hands-on introduction in basic-carpentry, hand tools, power tools, home-safety and home-care skills, to residents of Cincinnati, Ohio and surrounding communities. Please see the tab on the left for more info.
~
Along with generous, caring and dedicated volunteers, Isaias continues to devote quality time to humanitarian efforts in the US, Brazil and Costa Rica.

Explore releases and tracks from Isaias Gamboa at Discogs. Shop for Vinyl, CDs and more from Isaias Gamboa at the Discogs Marketplace.

Find Isaias Gamboa credit information on AllMusic
Isaias Gamboa with Lay Sisters of Brazilian Orphanage in Bahia, Brazil
Isaias Gamboa with lay sisters of the Brazilian Orphan School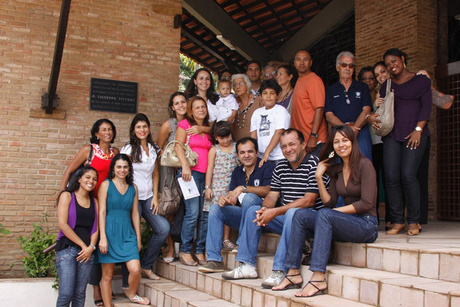 Isaias Gamboa with We Shall Overcome Foundation volunteers in Salvador Bahia, Brazil
Isaias Gamboa at Brazilian Children's Home
Isaias Gamboa in Detroit with Congressman John Conyers
Isaias Gamboa with Civil Rights Hall of Fame icon, Rev. Otis Moss Jr.
Isaias Gamboa in DC with Civil Rights Activist and Icon, Congressman John Lewis
Isaias Gamboa with Bishop Bobby Hilton (President of National Action Network, Greater Cincinnati Chapter )
Isaias Gamboa with Andrew Young And Dr. Eric Abercrumbie
Isaias Gamboa at Hebrew Union College with Rabbi Dr, Gary Zola; Director, Lee Daniels; Richard "Dick" Weiland, Rev. Dr. CW Newsome, Rev. Otis Moss Jr., Gold Medal Olympian Harrison Dillard and Rev. Jim Vickers
Isaias Gamboa with film director, Lee Daniels
Isaias Gamboa in Cleveland with legendary Olympian, Harrison Dillard
Isaias Gamboa at Arms of God orphan school in Salvador Bahia, Brazil